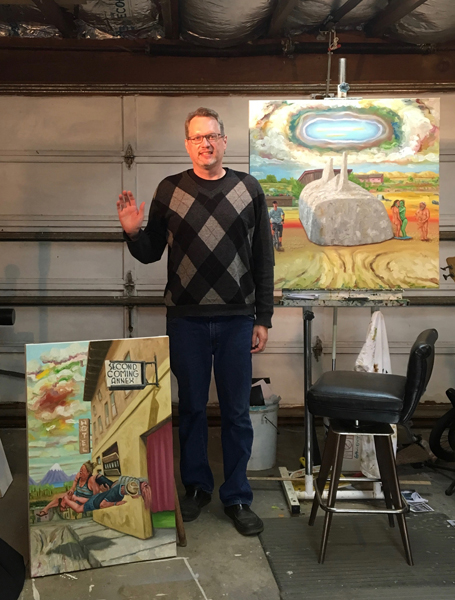 BIO:
Jesse Wiedel was raised in a rural community outside of the central valley town of Redding, California. After spending his young life gaining inspiration from the cultural wastelands, he eventually migrated to the city and received his degree in painting at the San Francisco Art Institute. He has spent the last twenty-five years making art in Humboldt County, California—fertile ground for his interest in human folly and frailties.

Jesse's paintings can be read as satire, social criticism, or psychological horror. He works mainly in oil paint, in a style that is both illusionistic and painterly. Jesse has also performed in many garage/punk bands since 1983, a practice that has also informed his artworks.
STATEMENT ON ART:
My narrative paintings illustrate elements of American society's psychic decline with familiar and yet uncanny scenarios that can be alternately grotesque, comedic, and horrifying. I combine commonplace and occasionally bleak landscapes with vividly rendered images inspired by biker parties, illustrated religious tracts, counter-cultural rituals, and celebratory scenes from everyday life. My paintings aim to elicit an uneasy sensation that our own reality is not too dissimilar from these disturbing fictional worlds.
Contact Jesse:
email: jessewiedel@suddenlink.net
THOUGHTS AND PRAYERS:
"Norman Rockwell is in the spin cycle stumbling out of a dive bar mumbling to hisself "What happened to America?" after seeing Jesse Wiedel's world."
-Carl Baldwin, Velveteria Museum
"His art is wack-tastic"
-Nicole Eisenman
"These are the people I work with every day."
-Eureka police officer
"Wiedel really captures the sense of the psychedelic in everyday life as well as the decay of the American Dream."
-Ann Magnuson
"His paintings are a cross between Van Gogh, Bruegel and Mike Judge."
-Robyn O'Neil



"Faithfully recording the bottom of the drug culture, his paintings feel as if his consciousness has merged with and taken on the hallucinations of the denizens he's surrounded by."

-Georganne Deen



"Wiedel's oeuvre celebrates a wonderfully weird naive assortment of trailer trash, methamphetamine addicts, lot lizards, country music hacks, red necks, outlaw bikers, Vikings, mythical Graboids and Russian oligarchs as subject for his colorful but somewhat brutal paintings."
-Kim Stringfellow